The footbike KOSTKA TOUR PRO is the best that the footbiking industry offers. It's number one among the adventurers - the best for you, if you want to experience the true adventure! You can perceive every moment while riding, filled with adrenaline and eager to fulfil your dreams. The adult footbike KOSTKA TOUR PRO, equipped with 26" - 20"wheels, makes you experience unforgettable moments on long trips, on asphalt, gravel, forest paths, flat roads or difficult downhill going.
Should you ride just in the neighbourhood or far away, you will always feel the beauty of footbiking because this model has been constructed with both perfect technology and workmanship.
The optimized driveability allows the footbike to ride easily on both asphalt and in terrain easily and it stays stable and easy to control. But this footbike fits best for the mountains, where it shall excel while going downhill. But it will go well on a flat terrain too, whether on asphalt or unpaved roads. That's why the footbike KOSTKA TOUR PRO fades away the differences between the categories - the double-walled rims are covered with the premium-quality tires Schwalbe Marathon Supreme which are going to hold the line in various conditions. You can ride at good speed thanks to the narrowed frame and front fork design (consisting of the 80mm hub Kostka HK 8024 DH with semi-ceramic bearings) which prevents the pushing leg from touching the footbike. The hub allows the wheels to turn easily and thus you can ride for an adventure at high speed. But if something runs into the road or if you want to stop and enjoy the landscape, just use the hydraulic disc brakes Shimano 695.
In order to increase the frame resistance against terrain unevenness, we strengthened the lower part of the deck with a stiffener and special welding. These elements absorb most of the collisions and thus prolong the frame lifespan. They make the footbike's construction tougher too.
Last of all, you can choose the shade from the colour range Kostka (for free) - so you will always have the best looking footbike for you.
KOSTKA TOUR PRO is simply the best vehicle with perfect driveability and additional skills that make it both a good mountain and tourist footbike. If you go for a calm trip or if you get into extreme conditions, it doesn't matter, this universal footbike never leaves you in the lurch.
At the customer's request, we offer the option of any color combination. If you have any idea about your PRO color configuration, feel free to contact us.
The stand, along with the front and rear fender are included.
We will gladly send any Kostka or MIBO scooter worldwide.
You will love our Czech kickbike scooters ;-)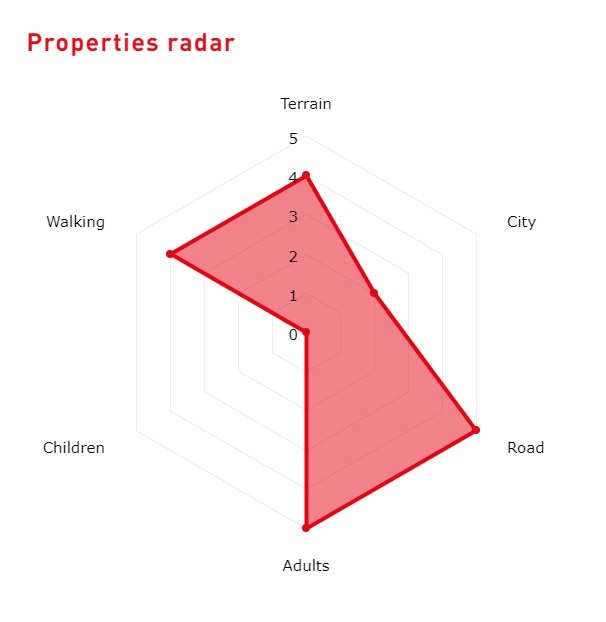 Basic specifications
Height 960 mm

Length 1720 mm

Weight 10,2 Kg

Loading capacity of frame 150 kg

Front wheel size 26"

Rear wheel size 20"

Clearance Height of Footboard 45 mm

Footboard Length 420 mm

Footboard Height 71 mm

Wheelbase 1150 mm

Handlebar width 620 mm
Equipment
Brakes Shimano 695

Hubs KOSTKA HK 8024 DH

Tires Schwalbe Marathon Supreme

Rims Double wall - XCO RIO

Stem KOSTKA SK 2822 S

Handlebars KOSTKA FBH 620-50 Al

Front fork Rigid 26" - 100 mm

Bearings (Hubs) Hybric-ceramic

Headset KOSTKA HSK 2834

Handlebar Grips Leather

Spokes Stainless steel

Tubes Auto

Caps Aluminum reflex
| | |
| --- | --- |
| By use: | For adults, Terrain, City |
| Wheel size: | 26/20 |