Meet the KOSTKA CAFE RACER. Cafe racer is a stylish footbike with a smooth touch of retro / vintage style and with extra equipment. This footbike is the most convenient means of transport to your favorite café, for a relaxing little trip, or around town. Cafe racer was created to make you enjoy every moment you spend with this original footbike and was your decoration not only while driving, but also if it is parked in front of the cafe. Cafe racer was made in beautiful coffee colors. This footbike is based on one of our most favourite model - KOSTKA Tour Max. To this already excellent foundation, we added many extra features, which makes the final product very unique. For example, original mudguards with a genuine leather ending, handlebar grips are also made from leather. Cafe racer is equipped with front and rear lights. Late night returns from a cafe or trip is not a problem now. But dont be fooled, because these lights, even thought they are very retro looking, are based on the LED diode technology. Chromed accessories and silver pearl bowden cables are another of the unique details.
Already at the first kick you will find out how great are the riding characteristics of this footbike. How could they not be, when frame geometry has been improved and refined for years. The footbike thus guarantees high stability even at high speeds.
The footbike has a 26" front wheel which allows you to get over every unevenness and ride on moderate terrain without any problem.
We designed both frame and front fork (supported by the 65mm wheel hub) a bit narrower in order to make the footbike comfier for you, whether you use it for trips or just in leisure activities. This construction prevents the pushing leg from touching the footbike and thus makes your ride more comfortable. Moreover, the two-chamber rims Dragon with stainless wire spokes and the wheel hub KOSTKA HK 6524 RS in the industrial bearings make the ride effective, comfortable and very quick.
It may happen that you hit something with the lower part of the deck, that can't be avoided... We tried to protect the frame during these collisions and thus prolong the lifespan. So we added a specials welds and a stiffener to the lower part of the deck that makes the footbike tougher as well.
But every ride has an end... When you would like to stop, just use the steady V-brakes Shimano 4000.
Cafe racer is a richly equipped scooter that combines modern sports design with elegance in a light retro style. It will be a unique means of transport not only to the cafe, but wherever you go with it. Don't be afraid to be original.
We will gladly send any Kostka or MIBO scooter worldwide.
You will love our Czech kickbike scooters ;-)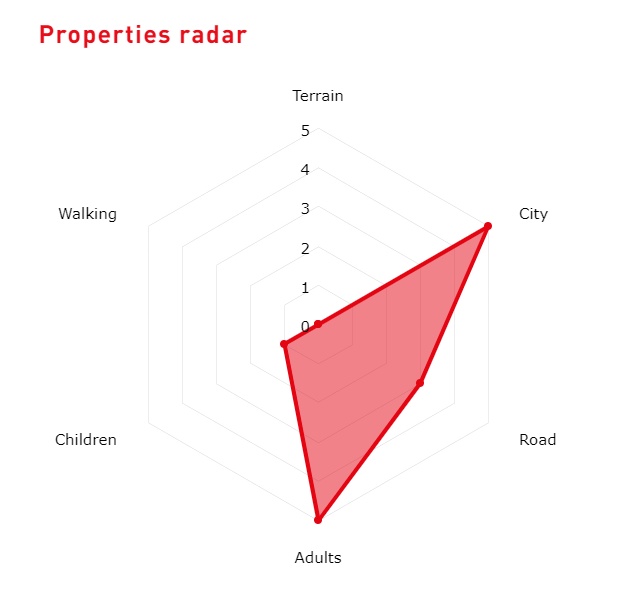 Basic specifications
Height 930 mm

Length 1720 mm

Weight 11,1 kg (with accessories)

Loading capacity of frame 150 kg

Front wheel size 26"

Rear wheel size 20"

Clearance Height of Footboard 40 mm

Footboard Length 4

20 mm

Wheelbase 1150 mm

Handlebar width 680 mm
Equipment
Brakes Shimano 4000
Hubs KOSTKA HK 6524 RS
Tires Deli Tire
Rims Double-wall
Stem KOSTKA SK 2822 S
Handlebars KOSTKA FBH Wings 680-50 Al
Front fork Rigid 26" - 65mm
Bearings (Hubs) Industrial
Headset A-Head
Handlebar Grips Leather - locking
Spokes Stainless steel
Tubes Auto
Caps Plastic reflex
| | |
| --- | --- |
| By use: | For adults, City |
| Wheel size: | 26/20 |