The newest edition of the footbike KOSTKA TOUR STAR (G5) is characterized by unique colouring - you simply won't be able take your eyes off its design.
This both road and terrain footbike has been designed as a precise, perfect and beautiful work. This design combines shine with the metallic paint covering the components. All mentioned components - as the mudguards and the bottle cage - are included in the price.
With all these colour variations can the KOSTKA TOUR STAR (G5) become an elegant favourite footbike for women but a stylish footbike for men as well. But don't be fooled! Although it's so lovely, it doesn't mean that it's fragile! Quite the opposite, it's wild and it can zip as a flash! This footbike's features make it excellent on asphalt, but unpaved roads in the fields and woods are no challenge for it either.
The perfect driveability is provided by the frame design, which makes the footbike stable and easy to control. The hub Kostka HK 6524 RH with hybrid semi-ceramic bearings makes the wheels rotate very fast. So when you feel like riding at full blast, just do it! You will have a comfort ride thanks to the two-chamber riveted rims Better (supported with reduced spoked beams Sapim). The rims are covered in premium-quality tires Schwalbe Supreme which withstand any conditions. This adult footbike is equipped with large wheels. Moreover, both frame and front fork design allow you to fully push off without touching the construction. Maybe you won't have to stop too often but sometimes it's necessary. You can then fully rely on the effective V-brakes Shimano XT than make the footbike stop just after few centimetres.
In order to increase the resistance against terrain unevenness, we strengthened the lower part of the deck with a stiffener and special welding. This upgrade not only protects the frame but it also makes it tougher.
To sum up, KOSTKA TOUR STAR (G5) is a fine footbike with perfect driveability, unique design and construction and you will ride in an elegant manner on both asphalt or unpaved roads. You will fall in love with this wild and vivid beauty and you will never leave it.
We will gladly send any Kostka or MIBO scooter worldwide.
You will love our Czech kickbike scooters ;-)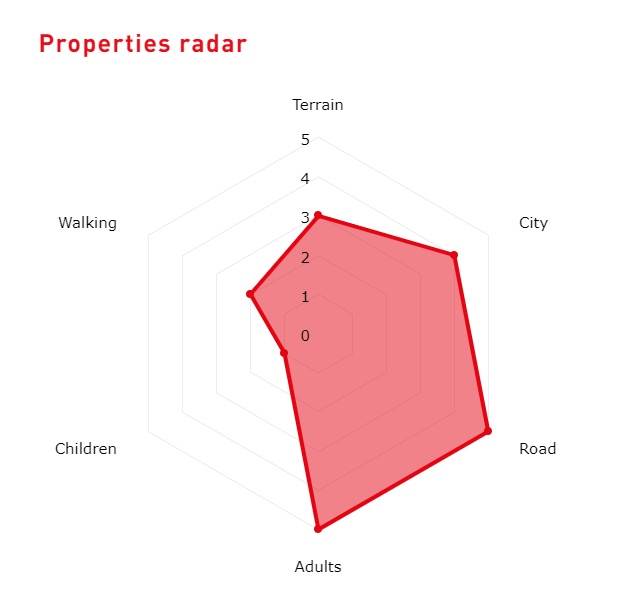 Basic specifications
Height 940 mm

Length 1720 mm

Weight 9,7 kg (with accessories)

Loading capacity of frame 150 kg

Front wheel size 26"

Rear wheel size 20"

Clearance Height of Footboard 50 mm

Footboard Length 420 mm

Wheelbase 1150 mm

Handlebar width 680 mm
Equipment
Brakes Shimano XT
Hubs KOSTKA HK 6524 RH
Tires Schwalbe Marathon Supreme
Rims Double-wall
Stem KOSTKA SK 2822 S
Handlebars KOSTKA FBH Wings 680-50 Al
Front fork Rigid 26" - 65mm
Bearings (Hubs) Hybric-ceramic
Headset KOSTKA HSK 2834
Handlebar Grips Leather
Spokes Stainless steel
Tubes Auto
Caps Aluminum reflex
| | |
| --- | --- |
| By use: | For adults, Terrain, City |
| Wheel size: | 26/20 |