Your dog will never get bored if you walk him/her while riding the footbike KOSTKA TOUR MAX FOLD DOG. Because nature and motion are the principles of your life!
The footbike package includes a spring and a dog leash, so you can just yoke your dog and go for an adventure. You can be sure that your dog will love it above all - the dog walks will never be the same!
The best thing is that you needn't ride just in the neighbourhood. The footbike KOSTKA TOUR MAX FOLD DOG can be folded up in a second and stored into the car - and you can drive to further destinations.
Since this folding footbike has large wheels with terrain tires, you can ride every type of unpaved road without any problem. The spacing ring makes the footbike's ground clearance higher and thus the terrain ride is easier. But sometimes, the collisions can't be avoided. Therefore we equipped the lower side of the deck with a special welding for better protection against scratches, which makes the whole footbike construction tougher. The combination of all these elements makes the model TOUR MAX FOLD DOG a perfect adult terrain folding footbike.
The narrowed frame and front fork design allow you to ride fast yet safely at the same time. The wheels (26"/20") with the wheel hub Kostka HK 6524 RS (invented specially for footbiking) provide you the highest efficiency while pushing. In case you will ride too fast or your dog goes wild, you can use the brakes Shimano 4000 and stop almost right on spot.
The footbike KOSTKA TOUR MAX FOLD DOG is a perfect tool for dog walks with an additional function - you can fold it up very quickly and easily. This model will provide you a lot of adventure and you'll feel free and happy all the way long.
We will gladly send any Kostka or MIBO scooter worldwide.
You will love our Czech kickbike scooters ;-)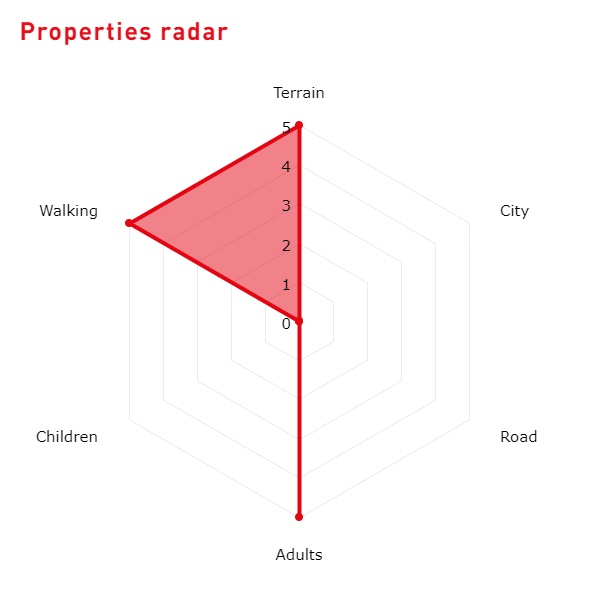 Basic specifications
Height 960 mm

Length 1720 mm

Weight 10,8 Kg

Loading capacity of frame 150 kg

Front wheel size 26"

Rear wheel size 20"

Footboard Length 420 mm

Front Footboard Clearance Height 75 mm

Rear Footboard Clearance Height 60 mm

Front Footboard Height 101 mm

Rear Footboard Height 91 mm

Wheelbase 1150 mm

Handlebar width 620 mm
Equipment
Brakes Shimano 4000
Hubs KOSTKA HK 6524 RS
Tires Schwalbe Black Jack
Rims Double wall - DRAGON
Stem KOSTKA FL 2822 S
Handlebars KOSTKA FBH 620-75 Al
Front fork Rigid 26" - 65mm
Bearings (Hubs) NTN Japan (Industrial)
Headset A-Head
Handlebar Grips Hardened foam
Spokes Stainless steel
Caps Plastic reflex
| | |
| --- | --- |
| By use: | For adults, For ride with a dog, Folding, Terrain |
| Wheel size: | 26/20 |