KOSTKA TOUR XXL is a specially designed model for the real man and women. This footbike with load capacity of 200 kg has an extreme frame stiffness, which is achieved by a special reinforcement and welding across the bottom side of the whole frame. Beside the stiffness and reinforcement, it also protects the most stressed parts in contact with irregularities.
Footbike KOSTKA TOUR XXL will impress you with awesome drive ability, so you can enjoy every single ride with joy and without restrictments. Remerx hubs, designated specially for footbikes will ensure quick and smooth rotation of very durable Jumbo wheels. Marathon Plus tires from Schwalbe ensures the precise guidance track lane. KOSTKA TOUR XXL is a model with Shimano 615 hydraulic brakes. Thanks to those brakes, you will always stop reliably and safely.
Footbike and weight loss – that is a topic, which you may think about. And be sure you think about it correctly. Because when you ride a footbike, you engage both the lower and upper parts of your body, so you can shape the entire figure in an efficient, fun and easy way.
However, not everyone wants to lose weight on a footbike...If you are happy with your weight and you are just looking for a good quality footbike, which will not grieve over the extra pound or two, KOSTKA TOUR XXL is will welcome you with her arms open.
We will gladly send any Kostka or MIBO scooter worldwide.
You will love our Czech kickbike scooters ;-)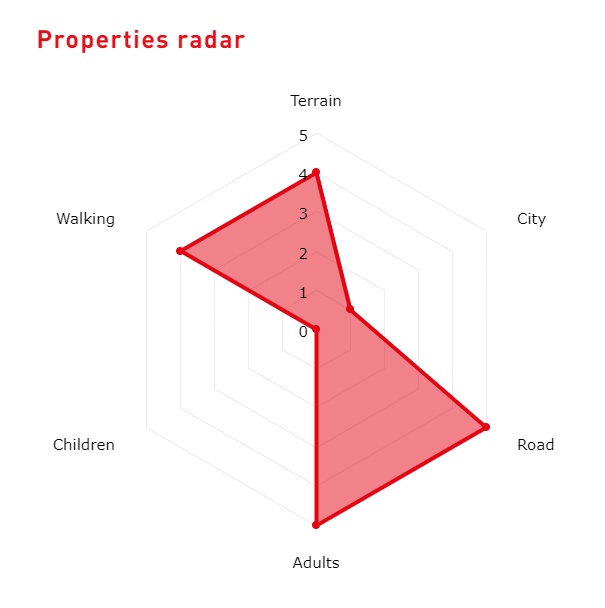 Basic specifications
Height 1000 mm

Length 1 660 mm

Weight 11,2 kg

Loading capacity of frame 200 Kg

Front wheel size 26"

Rear wheel size 20"

Clearance Height of Footboard 50 mm

Footboard Length 420 mm

Wheelbase 1150 mm

Handlebar width 720 mm
Equipment
Brakes Shimano DEORE (disc, hydraulic)

Hubs Remerx

Tires Schwalbe Marathon Plus

Rims Double-wall

Stem Aluminum 31.8 mm

Handlebars Aluminum 720 mm - 31.8 mm

Front fork Rigid 26" - 100 mm Reinforced

Bearings (Hubs) NTN Japan (Industrial)

Headset KOSTKA HSK 2834

Handlebar Grips Rubber - locking

Spokes Stainless steel

Tubes Auto

Caps Aluminum reflex
| | |
| --- | --- |
| By use: | For adults, Terrain, City |
| Wheel size: | 26/20 |