KOSTKA REBEL KID is a perfect footbike for all active little boys and girls. It's equipped with inflatable light-weight wheels. The weigh is only 5,4 kg, which makes it one of the lightest kids' footbikes on the market.
If you want to give your children a very high-quality kids' footbike, you will hit the right note with the footbike KOSTKA REBEL KID - your kids will have a good romp with it!
And there's the best thing: This footbike for little kids can evolve to a footbike for older kids! So when the kids grow, you can just set up the handlebars to upper position.
The frame made from the very solid steel (CrMo) and the industrial bearings provide the best driveability. We wanted to improve the frame's durability and safety, so we equipped the lower side of the deck with a special welding - this element protects the frame against damage caused by terrain collision.
For better safety purposes, the bike grips were moulded to fit perfectly to child's hands. The brake levers Shimano 4000 are adjustable as well, plus they're safe since they can be held even by the tiniest hands. The brakes themselves are very functional and reliable.
With various coloured designs is the footbike KOSTKA REBEL KID a great piece of art which is worth appreciate. So don't hesitate and make your children possible to ride delightedly. We believe they will love this kind of fun.
Premium-class Czech footbike for kids has been designed without compromises and using the modern technology.
We will gladly send any Kostka or MIBO scooter worldwide.
You will love our Czech kickbike scooters ;-)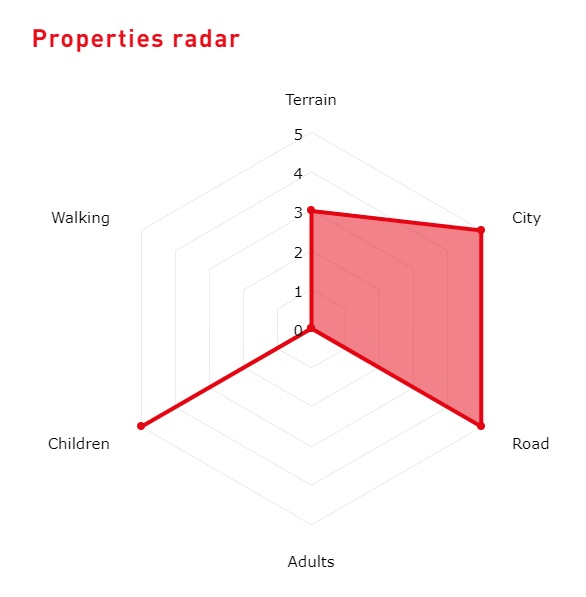 Basic specifications
Height 740 - 640 mm
Length 1130 mm
Weight 5,4 kg
Loading capacity of frame 70 kg
Front wheel size 16"
Rear wheel size 12"
Clearance Height of Footboard 40 mm
Footboard Length 300 mm
Wheelbase 775 mm
Handlebar width 420 mm
Equipment
Brakes Shimano 4000
Hubs KOSTKA HK 6524 HB
Tires Schwalbe Big Apple
Rims Remerx RMX 2021
Stem KOSTKA SK 2822 S
Handlebars KOSTKA FBH 420-100 Al 2P
Front fork Rigid 16" - 65 mm
Bearings (Hubs) Industrial
Headset A-Head 1"
Handlebar Grips Rubber
Spokes Stainless steel
Tubes Auto
Caps Plastic reflex
| | |
| --- | --- |
| By use: | For kids, Terrain, City |
| Wheel size: | 16/12 |