Kick scooter KOSTKA RACER PRO is a sports scooter designated for the active sport community – not only for everyday training, but even for the racing activities. KOSTKA RACER PRO has increased toughness and strenght, which significantly increase the maximum speed you can reach on this scooter. KOSTKA RACER PRO is not only fast, but also an elegant and perfectly constructed machine.
Kick scooter KOSTKA RACER PRO is build with lots of inovations, those inovations affects drive ability and rider's speed.
Geometry inovation effects...
significant increase of scooter toughness
decreasing the frame height
decreasing the footboard clearance
increasing the space for rider's kick
Bottom of the footboard is improved with special welding., This welding increases toughness and strenght of the frame construction.
All those previously mentioned parameters are affecting the ride ability. They are also increasing the potencial of sport and fully dynamic ride.
KOSTKA RACER PRO is classified as a fast sport equipment suitable for recreational and proffesional sport.
The footboard on RACER PRO is tapered and it's increasing the ride comfort thanks to the 65 mm hubs. Tapered footboard is minimizing the contact between the rider and the kick scooter.
The power of KOSTKA RACER PRO kick scooter are wheels weaved on REMERX hubs (the rear hub is 65 mm thick / front 100 mm). Wheels build especialy for the use in scooter industry are achieving greater toughness and signifficantly lower rolling resistance. REMERX hubs are made with industrial bearings. Hubs are achieving extreme toughness and are provided with higher flanges, increasing the vulnerability against the side dynamic forces.
We will gladly send any Kostka or MIBO scooter worldwide.
You will love our Czech kickbike scooters ;-)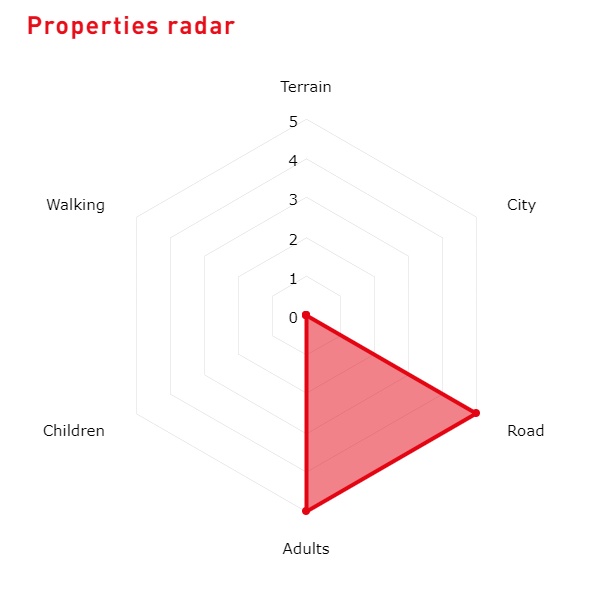 Basic specifications
Height 878 mm

Length 1740 mm

Weight 7,8 kg

Loading capacity of frame 150 kg

Front wheel size 28"

Rear wheel size 20"

Footboard Length 350 mm
Equipment
Brakes Shimano 105
Hubs Remerx 100 mm / 65 mm
Tires Schwalbe Durano
Rims Double-wall
Stem MTB
Handlebars MTB
| | |
| --- | --- |
| By use: | For adults, Racing |
| Wheel size: | 28/20 |