GO, GEE, HO, HEYA, HOO you'll get more gold medals in a row... Well, it won't be that easy but the footbike KOSTKA MUSHING RACER MAX will help you to win. With its characteristics and equipment, this model belongs to the mushing footbikes that are designed primarily for professional riders and riders with very demanding requirements.
When we were designing the frame, we followed the idea of making a footbike with excellent driveability and safety, even at high speed. We did our best - we set right every detail, designed new forms, performed testing and adjusted several additions - and now we can honestly say that we managed to successfully finish the whole project.
The model KOSTKA MUSHING RACER MAX is a brand-new introduction, racing mushing footbike - with an excellent driveability that you will appreciate immediately. This driveability is provided by the optimized frame design which can be controlled trouble-free, especially when riding downhill. The complete equipment makes this mushing footbike an extremely fast racing machine which has been made up to win. Once you step on the footbike's narrow deck (which allows active pushing while driving), you will never want to leave it. The front fork allows to drive precisely and it also helps to transfer energy from the rider to the road. The hub Kostka HSK 1024 DS helps you to achieve high speed. But in case your dog pack will go wild more than you want, you can easily and uncompromisingly stop using the disc brakes with Shimano 395. The resistant double-walled rims are covered with premium-quality tires Schwalbe Smart Sam 27.5" and 24" with terrain tread pattern - so the footbike KOSTKA MUSHING RACER MAX won't steer away even from the most damaged and muddy road.
When you ride on a forest or another kind of unpaved road, you will certainly hit some bumps. You cannot avoid it... For that reason, we equipped the lower side of the deck with a special welding and stiffener. These elements protect the frame against deterioration and thus prolong its lifespan and make it tougher as well.
Simply put, the model KOSTKA MUSHING RACER MAX is a perfect footbike for mushing races which you can use under every conditions. The footbike has been designed for it! We don't want to promise you impossible things but we believe that with this terrain footbike for mushing races you will surely achieve things that would be considered almost impossible.
This footbike is delivered with an elastic adapter and a dog leash. Just yoke your dog companion and let's ride together for a great experience you will always remember.
We will gladly send any Kostka or MIBO scooter worldwide.
You will love our Czech kickbike scooters ;-)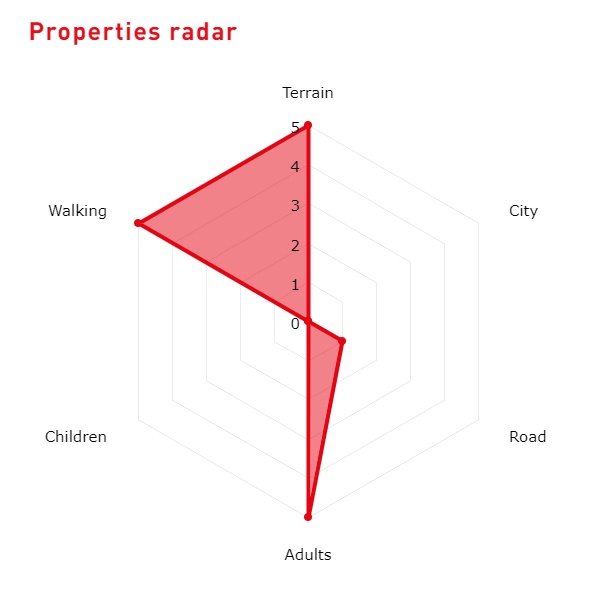 Basic specifications
Height 1050 mm

Length 1880 mm

Weight 11,5 kg

Loading capacity of frame 150 kg

Front wheel size 27.5"

Rear wheel size 24"

Clearance Height of Footboard 89 mm

Footboard Length 420 mm

Footboard Height 115 mm

Wheelbase 1240 mm

Handlebar width 740 mm
Equipment
Brakes Shimano 395
Hubs KOSTKA HK 1024 DS
Tires Schwalbe Smart Sam
Rims Double wall - RDX
Stem Force Basic 70 mm - 31,8 mm
Handlebars Force MTB 740 mm - 31,8 mm
Front fork Rigid 27,5" - 100mm
Bearings (Hubs) NTN Japan (Industrial)
Headset A-Head
Handlebar Grips Rubber - locking
Spokes Stainless steel
Tubes Auto
Caps Plastic reflex
| | |
| --- | --- |
| By use: | For adults, For ride with a dog, Terrain, Racing |
| Wheel size: | 27,5/24 |