With the footbike KOSTKA TWENTY MAX FOLD, you can easily take off for your long-sought adventure. You will go through this adventure as quick as a flash, filled with unique riding experience and the desire to explore the world. Whether you prefer a short relaxing ride or you plan to get a hard workout - or whether you want to ride just in the neighbourhood or find out what's behind the horizon, the footbike KOSTKA TWENTY MAX FOLD will be always by your side as your buddy.
This footbike is foldable and thus the transport is very easy and effortless. This sophisticated construction solution originates in favourite foldable street footbike RUBIK. You can easily fold the footbike thanks to the FOLD and SPIN systems (allowing you to disengage the rear brakes) within 30 seconds! So, let's put it in the car or the bus and off to adventure!
The folding adult footbike KOSTKA TWENTY FOLD provides perfect driveability that you will appreciate during both longer and shorter trips. The main basis is the optimized frame design providing the best stability and controllability. The footbike wheels (20") can turn really fast thanks to the hub Kostka HK 6524 RS. Moreover, the tires Schwalbe Marathon Racer, covering the high-quality double-walled rims Dragon, provide holding the line perfectly. The model KOSTKA TWENTY MAX FOLD is based on the narrowed frame and front fork design preventing the pushing leg from touching the footbike, so you can fully push off with no worries. And in case of pushing off so intense that the ride becomes an uncontrollable storm, you can slow down using the effective V-brakes Shimano 4000 any time.
Whether you want it or not, the footbike hits terrain unevenness sometimes... That's why we equipped the lower part of the deck with special welding and a stiffener that protects the frame itself from any damage. These features make the footbike's construction tougher too.
The model TWENTY FOLD is one of the favourite folding footbikes KOSTKA, optimized in every detail. You will be astonished not only by its functionality but also by its perfect driveability. Get to know to the unknown and explore the world with the footbike KOSTKA TWENTY MAX FOLD. The footbike can't wait for its first ride!
We will gladly send any Kostka or MIBO scooter worldwide.
You will love our Czech kickbike scooters ;-)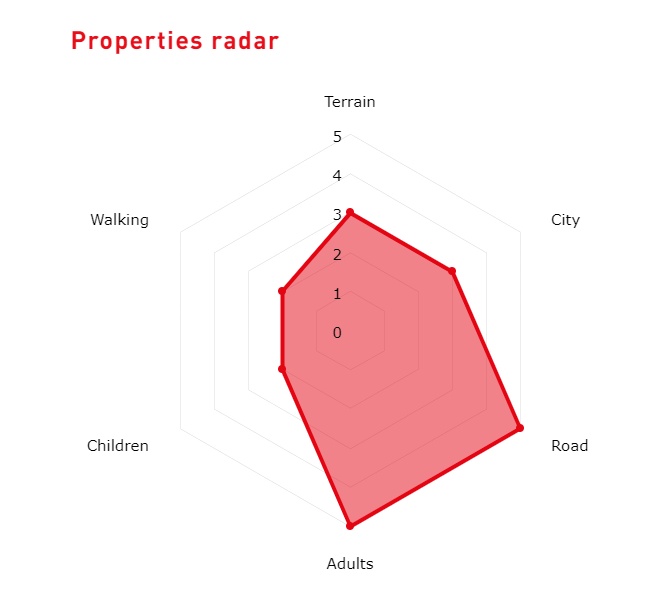 Basic specifications
Height 940 mm
Length 1565 mm
Weight 10,2 Kg
Loading capacity of frame 150 kg
Front wheel size 20"
Rear wheel size 20"
Clearance Height of Footboard 50 mm
Footboard Length 420 mm
Footboard Height 76 mm
Wheelbase 1080 mm
Handlebar width 615 mm
Equipment
Brakes Shimano 4000
Hubs KOSTKA HK 6524 RS
Tires Schwalbe Marathon Racer
Rims Double wall - DRAGON
Stem KOSTKA FL 2822 S
Handlebars KOSTKA FBH 615-160 St
Front fork Rigid 20" - 65 mm
Bearings (Hubs) NTN Japan (Industrial)
Headset A-Head
Handlebar Grips Hardened foam
Spokes Stainless steel
Tubes Auto
Caps Plastic reflex
| | |
| --- | --- |
| By use: | For adults, For kids, Folding, Terrain, City |
| Wheel size: | 20/20 |