Call them whatever you want: Painting, craft, plasterboard, or simply aluminum telescopic stilts are a great replacement for stepladders.
You can work at heights and at the ceiling many times faster than on classic ladders. In addition, we have supplemented this particular model with the most comfortable binding A-Jump Calf-Cuff .
Advantages of A-Jump Calf-Cuff:
Unrivaled convenience

Not allowed at work == & gt; greater security

Quick on, quick punch

Option to be adjusted exactly to the width of your foot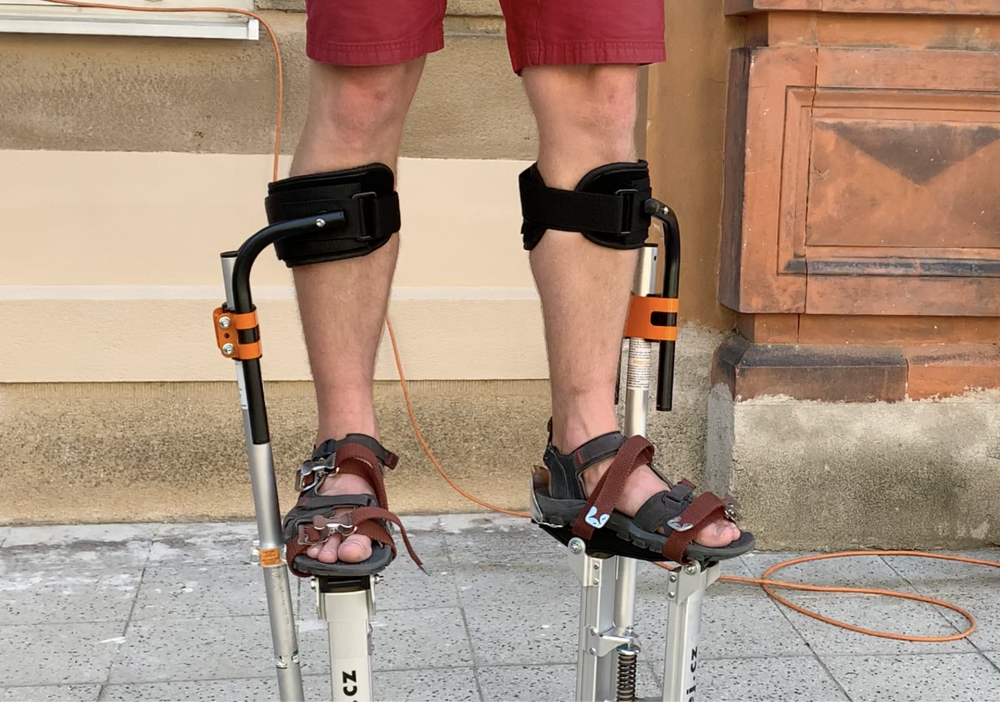 Don't risk your health on suspiciously cheap ( beautifully colored ) stilts. We have an honest stilt design for you, complemented by a comfortable and safer Czech Velcro binding.
Weight: 7 kg / pair | Load capacity 120 kg
Plasterboard work stilts have adjustable height from 45 to 100 cm. Aluminum stilts are not only for plasterboarders and craftsmen. They will also appreciate orchards when picking fruit and other professions.
Assembly / painting / construction stilts in practice:
Construction stilts are not intended for acrobats, but for ordinary craftsmen. So you don't have to worry about having to learn from them for many years and pass on your skills for generations from father to son :-)
The first position on plasterboard stilts may be a bit uncertain, but after 5 minutes you will feel much more stable and after 15 minutes you will seem to be a solid part of them.
How to learn at plasterboard matches?
Check out the video above to get an idea of ​​how challenging it is to learn on telescopic aluminum stilts. If you follow a few rules, you don't have to worry about anything:
Find a flat, safe surface and recommend any knee pads
Set the lowest height on the telescopic stilts
Put yourself on the windowsill or table (later you can do it leaning against the wall)
Practice your first steps along the fence or by hand with your partner
After the first hour worked on stilts, you will not return to the ladders :-)
Watch out for Chinese bindings!
The biggest weakness of cheap Chinese stilts is tying them up. In particular, the upper (holding the calf) is very easy and often released spontaneously. Most importantly, a lot of fachmans push, because it can not be adjusted to the thickness of a particular leg.
That's why we developed HOPsej stilts with the (most) comfortable A-Jump Calf-Cuff binding, which solves all problems ...
Self-assembly vs. delivery of complete stilts
Before adding to the cart, you can choose whether you want to deliver assembled stilts or screw the bindings yourself. If you choose the second option, here's how: