Comfortable Morpho Bigfoot snowshoes with increased load capacity up to 140 kg made in France.
Very reliable snowshoes, which are also used by the French and Belgian armies! The big advantage is the quick and safe adjustment of the shoe size.
The patented 3D construction has a 7% higher load capacity (flotation) than the classic construction, but with the same dimensions. The snowshoe is therefore perfectly usable for people with higher stature, but also for smaller, thicker types, which it will suit thanks to its size.
The body of the snowshoe is made of a special non-freezing material that can withstand harsh handling. The rotating mechanism (articulated binding) is made of very rigid polyamide PA66. Your walk will be safe thanks to 6 hard steel tips, grooves along the entire length of the sides and a two-toothed tool steel tool. Your foot will not slip even when traversing on the side.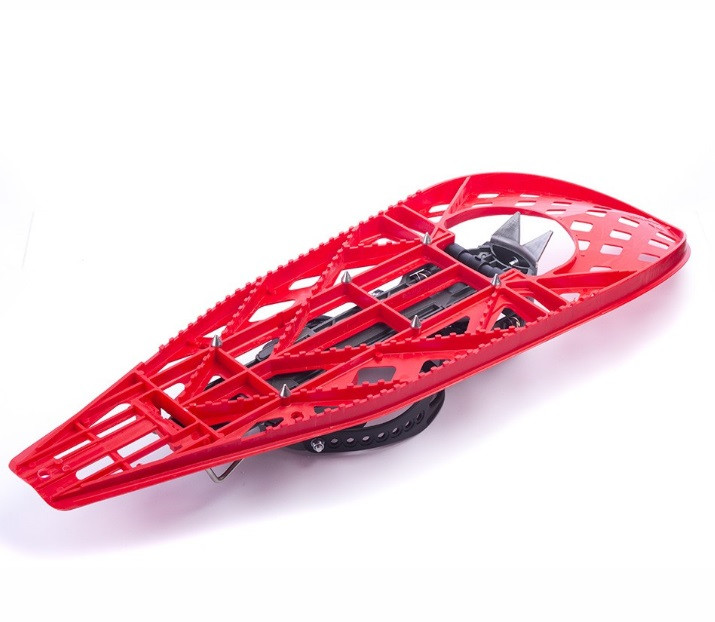 The front strap and durable non-freezing snowboard-type ratchets are used for quick and firm removal of the boot. Thanks to the adaptable body of the rotating mechanism, the snowshoes are suitable for almost any type of shoe, from trekking to ski or snowboard.
Morpho BigFoot snowshoe settings
- walking in mild terrain .... free heel
- walking up a steep hill ... free heel, extended heel to reduce the strain on the calf muscle
- walking / jumping downhill ... the heel is locked
Specifications
Load capacity: 96-140kg
Surface size: 2x 225in2
Weight: 2100g / pair