E-tour max fold (E3) - this is a smart e-footbike produced in Czech Republic. You can travel so easily and so lightly as you have never experienced before. The system is based on sensors which are located in footbike's hub. These sensors record people's motion activity and respond to all your impulses. Whether you want to ride faster or slower, the footbike adapts to all what you need - you will experience the feeling of synergy and enjoy the swiftness and ease of motion.
Three modes, many possibilities
E-tour max fold (E3) - there is a lot of options you can set up. And then you just kick off! You can set up parameters using a mobile app which adapt footbike's behaviour to your needs.
The PEDELEC mode will enhance the needed pushing power, so you can move very easily. If your speed drops to 6 km/h, the footbike will maintain it. Since it is speed of an agile person, you can easily move among other people. The speed support works up to 25 km/h.
The FUN mode adds another function - it will maintain the last reached speed for the specific duration you set up. It includes the push-enhancement function, just as in the PEDELEC mode. Both modes include energy recovery. The maximal speed of the FUN mode is 20 km/h.
If you want to get a little soaked and ride the footbike the way it has to be - without help. Simply set the mode to OFF - standard footbike mode.
No cables
You no longer need to worry about cables or unwanted damage. This unique system is based on the All-in-one solution, which means that all equipment (including sensors and batteries) is placed in the compact e-hub with nominal power 250 W.
No registration or insurance needed
The Footbike Pedelec mode meets the strictest German legislation for electric footbikes - and you need not register anywhere or have an insurance.
*The legislation requirement can differ from country to country. You should always check the information of the appropriate country authority. E.g. in Czech Republic you can use all modes without any restrictions.
Safe and controllable
E-tour max fold (E3) - the big front wheel provides you an easy ride through all obstacles. The tires Schwalbe (German brand) will provide you a comfortable feeling. The optimized geometry is based on the long-year experience in footbike production. This makes our footbike models very stable and easy to control. You needn't be afraid of an unpleasant bumpy ride because the e-footbike is small and unstable. The brakes Shimano will provide an excellent braking performance. Now you can simply enjoy your ride!
Control by phone app
E-tour max fold (E3) - you can connect to your mobile device via Bluetooth and check your speed, your location or distance travelled. The whole setting is done through the mobile app - there you can choose various parameters such as:
Boost (the kick-assist intensity),
Assistance (the value of the distance over which the speed achieved during kick-off will be maintained - up to 1km),
Braking (the braking intensity using the BT controller; only active with the BT controller - not included!),
High speed braking (the intensity of the regenerative braking - active from 30km/h).
You can pair more footbikes with your account and choose the one you use. However, a smartphone is not required to drive! It serves mainly to set up the mode.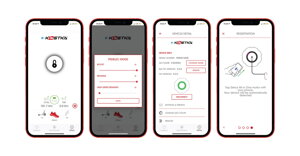 Or with bluetooth remote controller!
E-tour max fold (E3) - Bluethooth controller for your e-KOSTKA footbike is used to easily change modes during the ride and in no time. Adapt your e-Costume to your current requirements and enjoy even greater movement synergy between you and your footbike. Need maximum performance immediately? Hold down the boost button. Want to brake and put the energy you expended back into the battery? Use the regenerative braking button, all without cables.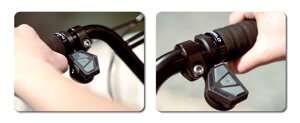 Energy recovery (recuperation) and quick charging
E-tour max fold (E3) - you can use the energy recovery while braking or downhill riding, which allows you to charge a little bit energy back again. The time it takes to charge can be only about 2 hours using a standard 2A charger, which won't overuse the battery too much, so that it can hold up to 1000 charge cycles! In PEDELEC mode, recuperation is activated at 30 km/h and in FUN mode at 25 km/h. The intensity of recuperation is adjustable.
Long range
160 Wh lithium battery provides a highly-developed power management and energy recovery system. The PEDELEC mode ensures the range of 50 km, while the FUN mode up to 20 km. But the real values always depend on the assistance set up, route profile and footbiker's weight.
Stretch your body
We preserved all qualities of a sports footbike. That's why the ride is quick and easy but and you can stretch your body without any additional efforts. Do you want to exercise while coming back home from work? You can just reduce the engine power and make something good for your health! The footbike helps you to stretch and strengthen your muscles, improve your joint condition and prevent back pain.
Low weight but big weight capacity
The weight capacity is designed for 120 kg while dynamic load. We test the lifespan of our footbikes on our testing places, where we check the material fatigue behaviour during real ride simulation. A low weight of this e-footbike ensures perfect driveability and manipulation.
Folding
E-tour max fold (E3) - you can fold the footbike easily in two steps within a second. The FOLD system provides the handlebars folding and the SPIN system ensures that the frame can be rotated around its axis. You will get a compact package which you can carry while travelling by public transport or car and which you can deposit where it is necessary. Our unique folding systems will help you with this!
Basic specification:
Length 1720 mm
Height 1020 mm
Weight 13,3 kg
Footboard clearance 65 mm
Footboard Height 91 mm
Footboard length 440 mm
Front wheel size 26"
Rear wheel size 20"
Wheelbase 1150 mm
Frame load capacity 150 kg
Handlebar width 680 mm
Battery type Li-ion (172.8 Wh, 6.0 Ah, 28.8 V)
Nominal engine power 250 W (Brushless)
Max. speed 20, 25 km/h
Full charge in about 2,5 h
Range about 50 km
Equipment:
Caps Plastic reflex
Brakes Shimano 4000
Hubs KOSTKA HK 1024 RS
Tires Schwalbe Marathon Racer
Rims Double wall - DRAGON
Stem KOSTKA FL 2822 S
Handlebars KOSTKA FBH Wings 680-100 Al
Front fork Rigid 26" - 100 mm
Bearings (Hubs) Industrial
Headset A-Head 1 1/8"
Handlebar Grips Hardened foam - locking
Spokes Stainless steel - black
Tubes Auto