Do you search for a very large footbike with large wheels? The model KOSTKA TRIP ALL BLACK is a tourist footbike and it fits well for tall riders who are eager to go on longer trips. The main feature of this footbike is the 28" front wheel and a 24" rear wheel.
As soon as you push off for the first time, you will instantly love the extraordinary driveability of this adult footbike! The footbike KOSTKA TRIP ALL BLACK got innovated design for holding the line perfectly and it provides you with a comfortable ride. We were optimizing these features for very long time and we achieved the best setting possible.
The footbike has a 28" front wheel which allows you to get over every unevenness and ride on moderate terrain without any problem. The 37 mm wide tires Schwalbe Marathon Plus provide a low rolling resistance and comfortable ride - their adhesive power will withstand both asphalt and unpaved roads (in the fields or in the forest).
We designed both frame and front fork of this footbike (supported by the 65mm wheel hub) a bit narrower in order to make the footbike comfier for you, whether you use it for trips or just for leisure activities. This construction prevents the pushing leg from touching the footbike and thus makes your ride more comfortable. Moreover, the two-chamber rims Dragon with stainless wire spokes and the wheel hub Kostka HK 6524 RS in the industrial bearings make the ride effective, comfortable and very fast.
It may happen that you hit something with the lower part of the deck, that can't be avoided... We tried to protect the frame during these collisions and thus prolong the lifespan. So we added specials welds and a stiffener to the lower part of the deck that make the footbike tougher as well.
But every ride has an end... When you would like to stop, just use the steady V-brakes Shimano 4000.
The limited edition footbike KOSTKA TRIP ALL BLACK was equipped to be used for long trips. But it won't disappoint you on shorter tours in the neighbourhood either!This adult footbike, equipped with inflatable tires, fits perfectly for both asphalt and unpaved roads, and furthermore it's an almost inexhaustible source of joy for you - you won't get bored either.
We will gladly send any Kostka or MIBO scooter worldwide.
You will love our Czech kickbike scooters ;-)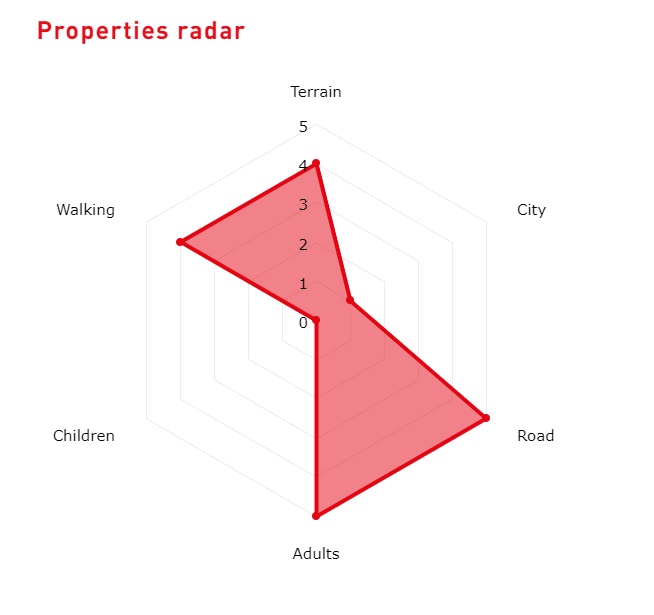 Basic specifications
Height 1030 mm

Length 1900 mm

Weight 10,6 kg

Loading capacity of frame 150 kg

Front wheel size 28"

Rear wheel size 24"

Clearance Height of Footboard 50 mm

Footboard Length 420 mm

Footboard Height 76 mm

Wheelbase 1250 mm

Handlebar width 680 mm
Equipment
Brakes Shimano 4000

Hubs KOSTKA HK 6524 RS

Tires Schwalbe Marathon Plus

Rims Double wall

Stem KOSTKA SK 2822 S

Handlebars KOSTKA FBH Wings 680-50 Al

Front fork Rigid 28" - 65 mm

Bearings (Hubs) NTN Japan (Industrial)

Headset A-Head

Handlebar Grips Hardened foam

Spokes Stainless steel

Tubes Auto

Caps Plastic reflex
| | |
| --- | --- |
| By use: | For adults, Terrain |
| Wheel size: | 28/24 |